View thumbnails only
Claudet & Houghton was founded in 1834 by George Houghton and Antoine Claudet, and subsequently underwent several mergers that resulted in numerous name changes.

- The company was known as George Houghton & Son (1867-1892), then as George Houghton & Sons until 1903, and then George Houghton & Sons Ltd.
- When the company merged with Holmes Bros., A.C. Jackson, Spratt Bros. and Joseph Levi & Co. in 1904, the business became Houghton's Ltd.

- In 1915, after establishing a partnership with W. Butcher & Sons Ltd., the company traded as Houghton – Butcher Manufacturing Co. Ltd. until 1926, when the name was changed to Houghton – Butcher (Great Britain) Ltd.

- In 1930 the business was renamed again, this time as Ensign, after their most successful line of cameras. Interestingly, the Ensign name derived from the 'N' sign logo.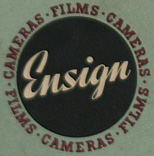 - After a later merger with Elliot & Sons Ltd. in 1945 the company became Barnet Ensign Ltd.
- After another merger with Ross, the company became Barnet Ensign Ross Ltd. in 1948.
- Finally, in 1954 the name was changed for the last time, to Ross – Ensign Ltd. The company discontinued the manufacture of cameras, and was dissolved, in 1961.



Houghton film sizes description can be found at the earlyphotography site.
| | | |
| --- | --- | --- |
| Houghton cameras: | Years of manufacture: | |
| A.A. Verifying camera | c1940 | |
| Aerial Camera | c1930s | |
| Aerial G 28 | c1944 | |
| Ariel | c1906 | |
| Autolet | c1906 | |
| Automatic Magazine Camera | c1891 | |
| British Ensign (Flat Back Ensign) | c1905 | |
| Briton | c1906 | |
| Carbine Box No.3 | c1923 | |
| Coronet | c1900s | |
| Daguerreotype Tropical Sliding Box | c1845 | |
| Dalo | c1903-1905 | |
| Duchess | 1900 | |
| Duo-Ensign 2 1/4 B (box, colored) | c1930s | |
| Duo-Ensign 2 1/4 B (box) | c1930s | |
| Empress | c1900-1920 | |
| Ensign (Pocket Ensign, Regular Ensign) | c1909-1925 | |
| Ensign 2 1/2 (box, brown) | c1923 | |
| Ensign 2 1/2 (box) | c1912-1920s | |
| Ensign 2 1/4 A (box, brown) | c1923 | |
| Ensign 2 1/4 A (box) | c1912-1920s | |
| Ensign 2 1/4 B (box, brown) | c1923 | |
| Ensign 2 1/4 B (box, red) | c1912 | |
| Ensign 2 1/4 B (box) | c1912-1920s | |
| Ensign 2 1/4 B RR (box, brown) | c1923 | |
| Ensign 3 1/2 (box) | c1912 | |
| Ensign 3 1/4 (box) | c1912 | |
| Ensign All Distance (box, black) | c1927 | |
| Ensign All Distance (box, colored) | c1927 | |
| Ensign All Distance Pocket No.1 (black) | c1928 | |
| Ensign All Distance Pocket No.1 (colored) | c1928 | |
| Ensign All Distance Pocket No.2 (black) | c1929 | |
| Ensign All Distance Twenty (box, 1920s) | c1920s | |
| Ensign All Distance Twenty (box, 1936) | 1936 | |
| Ensign Auto Kinecam 16 | c1930s | |
| Ensign Auto Kinecam 16B | c1935 | |
| Ensign Autorange 16-20 | c1953 | |
| Ensign Autorange 20 | c1934 | |
| Ensign Autorange 220 | c1937-1940s | |
| Ensign Autorange 820 | c1955 | |
| Ensign Autospeed | c1932 | |
| Ensign Cadet | c1924 | |
| Ensign Cameo | c1927-1938 | |
| Ensign Cameo Luxus | c1927-1938 | |
| Ensign Cameo Stereo | c1908 | |
| Ensign Carbine | c1920s-1930s | |
| Ensign Carbine (rangefinder) | c1920s-1930s | |
| Ensign Carbine Tropen (Tropical) | 1926-1931 | |
| Ensign Cinematograph | c1914 | |
| Ensign Cinematograph Tropen (Tropical) | c1914 | |
| Ensign Clubman | 1954-1957 | |
| Ensign Commando | c1946-1950s | |
| Ensign Commando (military) | c1945 | |
| Ensign Cupid | 1922 | |
| Ensign de Luxe | c1909-1925 | |
| Ensign Deluxe Reflex | c1910-1930s | |
| Ensign Double 8 | c1935 | |
| Ensign Duo (box, colored) | c1930s | |
| Ensign Duo (box) | c1930s | |
| Ensign E20 (box, colored) | c1927 | |
| Ensign E20 (box) | c1927 | |
| Ensign E26 (box) | c1929 | |
| Ensign E29 (box, colored) | c1924-1932 | |
| Ensign E29 (box) | c1924-1932 | |
| Ensign E29 Duo (box) | c1924-1932 | |
| Ensign E29 Portrait (box) | c1929 | |
| Ensign Focal Plane | c1926 | |
| Ensign Focal Plane Rollfilm Reflex | 1929 | |
| Ensign Focal Plane Rollfilm Reflex Tropical | 1925 | |
| Ensign Folding Reflex | c1914 | |
| Ensign Ful-Vue | 1946-1949 | |
| Ensign Ful-Vue (box) | 1939-1941 | |
| Ensign Ful-Vue (II, black) | 1950-1953 | |
| Ensign Ful-Vue (II, colored) | 1950-1953 | |
| Ensign Ful-Vue Super | 1954-1959 | |
| Ensign Fulvueflex (Synchroflash) | 1957-1959 | |
| Ensign Greyhound | c1950 | |
| Ensign J-B (Junior Box) | c1932 | |
| Ensign Kinecam 4 | c1932 | |
| Ensign Kinecam 6 | c1933 | |
| Ensign Ladies Bag Camera | c1926 | |
| Ensign Mascot (A3) | c1910 | |
| Ensign Mascot (D3) | c1910 | |
| Ensign Mickey Mouse | 1935 | |
| Ensign Midget 22 | c1935 | |
| Ensign Midget 33 | c1934 | |
| Ensign Midget 55 | c1934 | |
| Ensign Midget Silver Jubilee (S33) | c1935 | |
| Ensign Midget Silver Jubilee (S55) | c1935 | |
| Ensign Model D | c1906 | |
| Ensign Model V | c1906-1909 | |
| Ensign Multex (No.0, Ross Xpres 1.9/53mm) | 1937-1938 | |
| Ensign Multex (No.0) | 1937-1938 | |
| Ensign Multex (No.1) | 1936 | |
| Ensign Pocket 20 | c1932 | |
| Ensign Pocket E-20 | c1938-1939 | |
| Ensign Popular Reflex | c1910-1930s | |
| Ensign Popular Reflex Tropen (Tropical) | c1910-1930s | |
| Ensign Popular Sport (folding) | c1924-1925 | |
| Ensign Pressman Reflex | c1910s | |
| Ensign Ranger | c1948 | |
| Ensign Ranger II | c1951 | |
| Ensign Ranger Special | c1953 | |
| Ensign Reflex | c1910-1930s | |
| Ensign Roll Film Reflex (2 1/4 B, horizontal) | c1920s | |
| Ensign Roll Film Reflex (2 1/4 B, vertical) | c1920s | |
| Ensign Roll Film Reflex Tropen (Tropical) | c1920s | |
| Ensign Selfix 12-20 | c1952 | |
| Ensign Selfix 12-20 Special | c1954 | |
| Ensign Selfix 16-20 | c1950s | |
| Ensign Selfix 20 | c1933-1937 | |
| Ensign Selfix 220 | c1937 | |
| Ensign Selfix 320 | 1938 | |
| Ensign Selfix 420 | c1940 | |
| Ensign Selfix 820 | c1950s | |
| Ensign Selfix 820 Special | c1953 | |
| Ensign Selfix Carbine | c1908 | |
| Ensign Simplex Pocket Model CC | c1939 | |
| Ensign Special Reflex | c1930s | |
| Ensign Special Reflex Tropen (Tropical) | c1925 | |
| Ensign Speed Film Reflex | 1929 | |
| Ensign Speed Film Reflex Tropen (Tropical) | 1925 | |
| Ensign Super Kinecam | c1931 | |
| Ensign Super Speed Cameo | c1927-1938 | |
| Ensign Superbe | c1909 | |
| Ensign Victo | c1900s | |
| Ensignette Junior 2 1/4 B | c1914-1916 | |
| Ensignette Junior 2A | c1914-1916 | |
| Ensignette Junior 2J | c1914-1916 | |
| Ensignette Ladies Bag Camera (No.1, aluminum) | c1926 | |
| Ensignette No.1 | c1909-1920s | |
| Ensignette No.1 (anastigmat, aluminum) | c1920 | |
| Ensignette No.1 (anastigmat, brass) | c1910 | |
| Ensignette No.1 (anastigmat, nickel) | c1912 | |
| Ensignette No.1 (gilt) | c1910 | |
| Ensignette No.1 (nickel) | c1911-1920s | |
| Ensignette No.2 | c1912 | |
| Ensignette No.2 (aluminum) | c1920s | |
| Ensignette No.2 (anastigmat, nickel) | c1912 | |
| Ensignette No.2 (gilt) | c1912 | |
| Ensignette No.2 (nickel) | c1912 | |
| Ensignette No.2 (silver) | c1912 | |
| Ensignette No.2 De Luxe (anastigmat) | c1912-1920s | |
| Flush Back Ensign | c1914-1922 | |
| Folding Ensign | c1911-1925 | |
| Folding Ensign (oblong) | c1911 | |
| Folding Ensign Junior | 1912 | |
| Folding Klito | c1900s-1916 | |
| Folding Klito De Luxe | c1913-1918 | |
| Folding Klito Junior | 1915 | |
| Folding Scout No.0 | c1906 | |
| Folding Scout No.1 | c1906 | |
| Folding Scout No.2 | c1906 | |
| Folding Scout No.3 | c1906 | |
| Folding Scout No.4 | c1906 | |
| Folding Scout No.6 | c1906 | |
| Holborn Ilex No.0 | c1905-1906 | |
| Holborn Ilex No.00 | c1905-1906 | |
| Holborn Ilex No.000 | c1905-1906 | |
| Holborn Ilex No.1 | c1905-1906 | |
| Holborn Ilex No.1 P.C. | c1905-1906 | |
| Holborn Ilex No.10 | c1905-1906 | |
| Holborn Ilex No.10a | c1905-1906 | |
| Holborn Ilex No.10e | c1905-1906 | |
| Holborn Ilex No.2 | c1905-1906 | |
| Holborn Ilex No.3 | c1905-1906 | |
| Holborn Ilex No.3a | c1905-1906 | |
| Holborn Ilex No.3b | c1905-1906 | |
| Holborn Ilex No.4 | c1905-1906 | |
| Holborn Ilex No.5 | c1905-1906 | |
| Holborn Ilex No.5 P.C. | c1905-1906 | |
| Holborn Ilex No.5a | c1905-1906 | |
| Holborn Ilex No.5b | c1905-1906 | |
| Holborn Ilex No.5c | c1905-1906 | |
| Holborn Ilex No.6 | c1905-1906 | |
| Holborn Ilex No.6a | c1905-1906 | |
| Holborn Ilex No.6e | c1905-1906 | |
| Holborn Ilex No.7 | c1906 | |
| Holborn Ilex No.7a | c1906 | |
| Holborn Ilex No.8 | c1905-1906 | |
| Holborn Ilex No.8 Tropical | c1905-1906 | |
| Holborn Ilex No.8a | c1905-1906 | |
| Holborn Magazine Camera | c1900-1905 | |
| Holborn Postage Stamp Camera | c1901 | |
| Holborn Reflex No.1 | c1895-1906 | |
| Holborn Reflex No.2 | c1906 | |
| Holborn Reflex No.3 | c1906-1908 | |
| Holborn Reflex No.3e | c1906-1908 | |
| King | c1905-1909 | |
| Klito No.0 | c1905-1919 | |
| Klito No.00 (A) | c1905-1919 | |
| Klito No.00 (B) | c1905-1919 | |
| Klito No.000 | c1913-1919 | |
| Klito No.1 | c1905-1919 | |
| Klito No.1A | c1905-1919 | |
| Klito No.2 | c1905-1919 | |
| Klito No.2A | c1905-1919 | |
| Klito No.2B | c1911 | |
| Klito No.2V | c1910 | |
| Klito No.3 | c1905-1919 | |
| Klito No.3A | c1911 | |
| Klito No.4 | c1905-1919 | |
| Klito No.6 | c1905-1919 | |
| Klito No.6V | c1910 | |
| Klito No.6X | c1910 | |
| Klito No.7 | c1905-1919 | |
| Klito No.9 | c1905 | |
| Klito No.9A | c1905 | |
| Mascot No.1 | c1905-1919 | |
| Mascot No.1A | c1905-1919 | |
| Mascot No.2 | c1905-1919 | |
| Mascot No.2A | c1905-1919 | |
| Mascot No.3 | c1905-1919 | |
| Mascot No.4 | c1905-1919 | |
| May Fair (box) | c1930 | |
| May Fair (folding) | c1930 | |
| Planet | c1905-1906 | |
| Pocket Ensign 2 1/4 B | c1960s | |
| Pocket Klito | c1905-1906 | |
| Popular Ensignette | c1922 | |
| Royal Ensign | c1905 | |
| Royal Mail Stereolette | c1900s | |
| Sanderson Junior | c1903-1910 | |
| Sanderson Junior Hand & Stand | 1903 | |
| Scout (A) | c1905-1906 | |
| Scout (B) | c1905-1906 | |
| Shuttle | c1892 | |
| Smyth's Stereo Hand Camera | c1902-1903 | |
| Snapper | c1953 | |
| Standard Ensign | c1909-1911 | |
| Stereo Holborn-Ilex 14 | c1905-1906 | |
| Stereo Holborn-Ilex 14b | c1905-1906 | |
| Stereo Klito | c1890s-1900s | |
| Sylvar | c1909-1921 | |
| Tailboard Camera | 1880s | |
| Ticka Watch | 1905-1914 | |
| Ticka Watch (brass) | 1905-1914 | |
| Ticka Watch Focal Plane | 1905-1914 | |
| Ticka Watch silver | 1905-1914 | |
| Ticka Watch-Face | 1912 | |
| Triad | c1895-1897 | |
| Tudor | c1905-1908 | |
| Twin Lens Reflex (TLR) Prototype | c1955 | |
| Vest Pocket Ensign | c1923 | |
| Victo (Triple Victo) | c1900s | |
| Victo Stereo (Triple Victo Stereo) | c1900s | |
| Victo Superbe | c1912-1914 | |
| Victo Tropen (Tropical) | c1908 | |
| Watch Pocket Carbine | c1926-1930s | |
| Watch Pocket Carbine Tropen (Tropical) | c1926-1930s | |
| Zyno | c1905 | |
Searching eBay listings:

Searching other listings:

Icons legend:

No value prediction

Low estimate accuracy

Low-medium estimate accuracy

Medium estimate accuracy

Medium-high estimate accuracy

High estimate accuracy

Camera Image Available

Digital camera

Historical Prices Chart

Camera Manual Link

CB Member Comments Available

Raity index available

Camera Featured in the CB Member Collections

Camera is in the CB Member Wishlist

Camera is in the CB Member For Sale list