Collectiblend Average Index
Disclaimer:
All prices provided here are approximate, and are listed for general guidance only. Collectiblend can not be held responsible for any incorrect values or estimates. As an additional source of information I'd suggest
McKeown's Cameras Price Guide
.
Another way to determine a decent price for a camera is to check
eBay Collectible Camera listings
. Look for the "completed listings" checkbox on the left side in the "Show only" tab, click it and search for the camera you are interested in.
How to read prices:
All sale records
include buyer's premium
. Some records include taxes if it is mandatory. Prices older than a current year include inflation adjustment (official USA stats). So these are buy-to-own estimates (not including shipping), not simply a sale prices.
Wherever I can, I provide
Very good
and
Mint
price ranges. "Very good" is a camera/lens with signs of light use. "Mint" is an item with minimal signs of use to no signs at all, close to new but not new.
In most cases if there is a note
body only
, the lens was not included in the camera price. Usually if camera comes with lens, that's the regular lens. If some premium lens rise the camera price a lot, I list a camera with such lens in a separate listing.
Auctions grading system is different for each auction. Evaluating a camera condition is not a science but more like an art. So, in order to calculate the average price, I normalize the grading systems to our internal scale.
The listed average prices are for the buyers to own the item. If you are selling the item, you should expect to get less out of the sale: auction house will get its premium, eBay will get its listing fee, the sale fee, paypal transfer fee, etc. Even if you choose a third-party releller, it will get its cut too. The only exception is a person-to-person sale.
Please note, while eBay sellers may offer an item for the lower price comparing to hammer auctions, there is no standard rating system on eBay, and the actual condition may differ. For the
eBay items
, as a rule of thumb,
substract 10-15%
from our average index, and use your best judgement. In the real stores and hammer auctions buyers pay premium for the peace of mind and for a standard (trusted in most cases) evaluation of the item.
Sometimes I get comments like "this value seems too high" or "too low". While the price of any item is a subject to a personal opinion, sentimental value, mood of a seller and buyer at the time of sale, etc., if you see a list of known sales of the item, the price is not too high or too low, it is the
actual price
someone paid for the item.
The
Collectiblend Average Index
is calculated based on the known auction prices and other known values. Some of these known prices are listed on Collectiblend.com.
The grading and price system varies even between the Price Guides. Here is the comparison between McKeown's, Kadlubek's and CollectiBlend grading systems.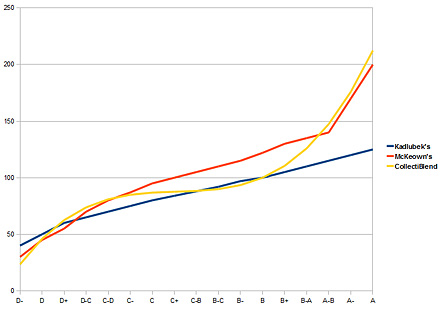 On the left side is a price (%). Collectiblend uses a polynomial regression to find a best fit for the price/condition curve based on the known sales. Also, the price weight is shifted toward the recent sales. Our "Average" price range is based on a
C-D
grade, "Very good" on a
B
grade, and "Mint" is
A-
.
For the prices listed with the

icon, the grading scale is as follows
Letter - functional_condition:
A - As new, everything functioning perfectly, with warranty
B - As new, everything functioning perfectly, no warranty
C - Everything functioning, recently professionally cleaned/lubricated, under warranty
D - Everything functioning, recently professionally cleaned/lubricated, no warranty
E - Everything functioning, major functions have recently been professionally tested
F - Fully functioning, not recently cleaned/lubed, shutter/meter accuracy not guaranteed
G - Fully functioning, not recently cleaned/lubed, shutter/meter likely not accurate
H - Functioning with problems, shutter stuck on slow speeds, meter may not work
J - Not usable without repair
K - Not repairable
Z - Unknown
Number - Cosmetic Condition
0 - New, never sold, original box, with warranty
1 - As new, never used, original box, no warranty
2 - No signs of wear, no box
3 - Very minimal signs of wear
4 - Signs of light use
5 - Signs of normal use or age
6 - Signs of heavy use
7 - Restorable, minor parts may be broken/missing
8 - Restorable, some parts may be missing
9 - For parts only, or major restoration needed
Z - Unknown
On this scale,
5E
is same as
B
grade (
Very Good
). These prices were added by CollectiBlend members based on the known eBay or other sales. These prices are also being considered during the Average Index calculation. You can easily add a new price by yourself as well.