View thumbnails only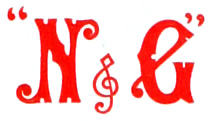 Newman & Guardia was founded in 1893 by Arthur Newman (camera designer at Newman & Simpson) and Julio Guardia (businessman and photographer). This was a successful company until Julio died in 1906 and Arthur resigned his directorship in 1908. Later, in 1909, Newman set up a new company with James A. Sinclair - Newman & Sinclair Ltd.. Original N&G company existed until approximately 1959, when it was incorporated into Lawley Apparatus Company and later acquired by Éclair-Debrie.
Very detailed description of N&G cameras can be found at early photography site.


Searching eBay listings:

Searching other listings:

Icons legend:

No value prediction

Low estimate accuracy

Low-medium estimate accuracy

Medium estimate accuracy

Medium-high estimate accuracy

High estimate accuracy

Camera Image Available

Digital camera

Historical Prices Chart

Camera Manual Link

CB Member Comments Available

Raity index available

Camera Featured in the CB Member Collections

Camera is in the CB Member Wishlist

Camera is in the CB Member For Sale list