View thumbnails only




Officially, Kowa (興和) was founded in Japan in 1894, but did not enter the optical business until 1946. Their first camera (Kalloflex) was manufactured in 1954, while their last one (Kowa Super 66) was produced in 1978.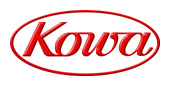 Currently, Kowa manufactures a range of other optical products such as spotting scopes, rifle scopes, binoculars, etc.
Searching eBay listings:

Searching other listings:

Icons legend:

No value prediction

Low estimate accuracy

Low-medium estimate accuracy

Medium estimate accuracy

Medium-high estimate accuracy

High estimate accuracy

Camera Image Available

Digital camera

Historical Prices Chart

Camera Manual Link

CB Member Comments Available

Raity index available

Camera Featured in the CB Member Collections

Camera is in the CB Member Wishlist

Camera is in the CB Member For Sale list