View thumbnails only
Konishiroku (小西六) company traces its roots back to 1873, when Sugiura Rokusaburō started selling photographic products in his father's pharmacy store. Over time the company had several different names, though Konishi was always part of the title. Until 1902, Konishi didn't manufacture cameras, but relied on subcontractors. In 1902, this company opened its own manufacturing division - Rokuoh-sha (a lot of cameras bear this name until 1943). At the same time, many cameras, especially ones made for Japanese military, are labeled as R. Konishi or R. Konishi & Co. (until about 1943).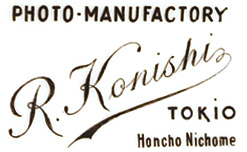 In 1921 the company took the name Konishiroku and adopted the cherry blossom as its logo.



In 1960, Konishiroku acquired Taisei Kōki, a small camera manufacturer with a modestly well-known reputation. In 1987, the company changed its name to reflect its successful brand name, Konica (Konishiroku Camera).



Later, in 2003 Konica merged with Minolta to form the Konica-Minolta company, which discontinued cameras production in 2006.

Searching eBay listings:

Searching other listings:

Icons legend:

No value prediction

Low estimate accuracy

Low-medium estimate accuracy

Medium estimate accuracy

Medium-high estimate accuracy

High estimate accuracy

Camera Image Available

Digital camera

Historical Prices Chart

Camera Manual Link

CB Member Comments Available

Raity index available

Camera Featured in the CB Member Collections

Camera is in the CB Member Wishlist

Camera is in the CB Member For Sale list