View thumbnails only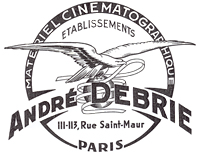 Etablissements André Debrie was founded in 1898 in Paris. Company manufactured a lot of photo- and cinematography related equipment. André died in 1967 and in 1992 the company was merged with CTM.
While there is very little information about what was happening after the death of André, we have found that in 1968 the company was actually acquired by Harry Saltzmann (producer of several James Bond movies and owner of the Fodel company) and moved to UK (even though employees were not happy at all) along with another French cine cameras manufacturer - Eclair. In UK both companies were merged with Fodel to form the Éclair-Debrie company which went bankrupt in 1973. The interesting part is - both Debrie and Eclair continued some operations back in France, and later emerged from the ashes, surviving to this day.
Searching eBay listings:

Searching other listings:

Icons legend:

No value prediction

Low estimate accuracy

Low-medium estimate accuracy

Medium estimate accuracy

Medium-high estimate accuracy

High estimate accuracy

Camera Image Available

Digital camera

Historical Prices Chart

Camera Manual Link

CB Member Comments Available

Raity index available

Camera Featured in the CB Member Collections

Camera is in the CB Member Wishlist

Camera is in the CB Member For Sale list