Leitz

,

50mm (5cm) f2 Summitar (SM)

CollectiBlend Average Index

| | | | |
| --- | --- | --- | --- |
| | Average | Very good | Mint |
| | $200-220 | $280-300 | $500-520 |

Scroll down for the auction sales and other prices.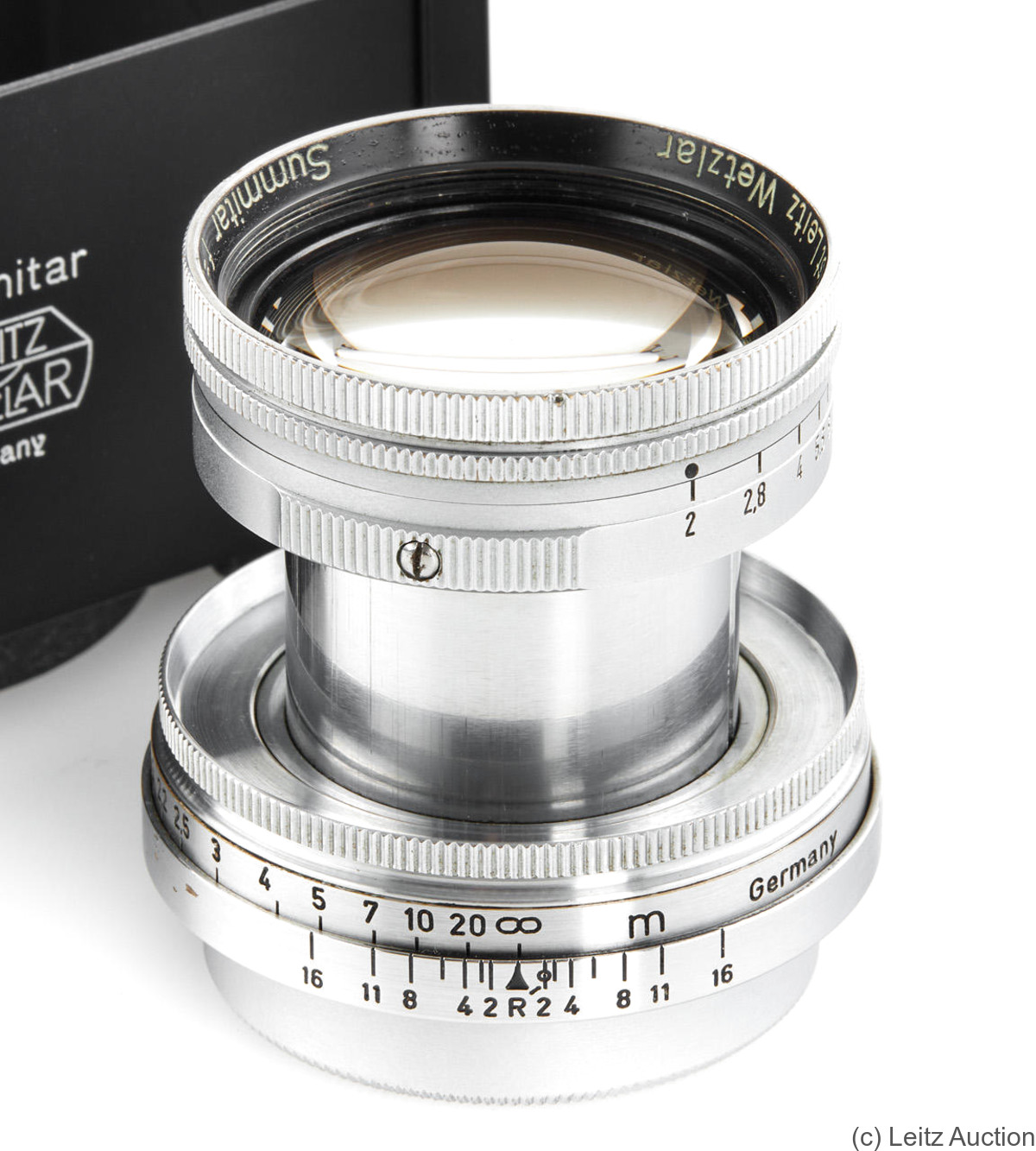 Camera sales and other sources with converted and inflation-adjusted prices:
Date

Condition
Price
2019-10-18

B

$412
2018-11-01

B

$218
2018-04-26

B

$300
2018-04-26

B+

$300
2017-06-10

A-B

$376
2016-11-19

A-B

$428
2011-11-12

A-B

$961
2011-10-30

B+

$257
2011-10-30

B+

$235
2010-06-13

B-A

$240
2010-06-13

C

$190
2010-05-09

B

$287
2009-11-29

B-

$212
2008-06-15

B+

$271
2007-11-17

B+

$651
2006-05-20

B-A

$363
Post a reply
Is this entry correct ?
2013-12-01
B-C
$1491

Price seems way high compared to the other prices.
---
Post a reply
It is correct according to the auction
site
. Site itself may be wrong though...
---
Post a reply
I think it must be a mistake - there was one bid for 800 € - the auction house itself has the expected price in the 140-180 range, with opening price 120 Euro if you click on the One bid link it states 120 Euro - I think the lens was sold at 120 €
---
Post a reply
I think you are right, just changed the record. Not sure what happened to the auction2000.se listing.
Now I wonder how many other errors could be out there.
---
Post a reply
Note the Asterisk next to the serial number.

There were "Summitar *" lenses that were prototypes of the Thorium glass Summicrons. I'm betting that someone saw the "*" ans took a gamble on the lens. Some manufacturers also used * to denote duplicate serial numbers, as done with repairs.

Either way- the SN with the * is unusual; if the lens was a prototype- worth the price. I believe the SN is too early to be the prototype Summicron.
---
Post a reply
Ah, the star! Thanks for pointing this out, Brian! I may have confused it with WestLicht auction - they mark smaller VAT items with star. There is a separate listing for the
prototype model
, but that one is for actual prototypes (Summitar *), not s/n *.
You are right, someone may have confused it with prototype lens. I removed the sale altogether.
---
Searching eBay listings: