Asahi

,

Pentax K1000

CollectiBlend Average Index

Average

Very good

Mint

Body only
$40-50
$60-70
$100-120
With lens
$120-140
$160-180
$280-300
Estimate value accuracy:
1976-1990. 35mm SLR camera. Black is a little more expensive than chrome.
Camera manual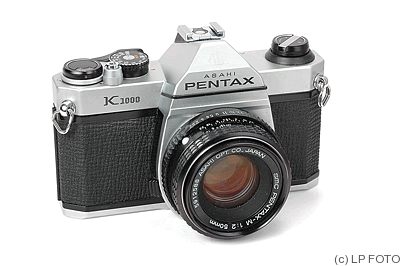 Camera featured in these collections: kflowers shahdad BrokenShutter mobilene DanMarley npatyn ChrisandHolley PAINisLIFE joram68 Droster08 kamera king arnstone NanoKara rahmannnn frog3331 Danielclark1335 Dk1000 LionK1000 OliMonster patkojanos Webturtle cameracollect0r bill339 paterimos
Camera sales and other sources with added premiums,
converted and inflation-adjusted prices:
Date

Condition
Price
2012-06-17

B+

$130
2009-12-12

B-

$126
2005-12-11

B+

$170
2005-05-29

B-

$224
2004-12-05

B

$211
2003-02-28

B

$135
2002-01-01

B

~$60
2013-06-16

B-

(body only)
$61
Do you know a recent sale? You can add it!
Community comments:
I find it hard to believe that at K1000 in only B+ condition sold for $127 because they are a dime a dozen on eBay and are selling for as low as $20. At the same time maybe it's because it's the Japanese version? There are 3 versions. The ones made in Japan that either have "Made in Japan" or "Asahi Opt Co, Japan". The ones made in Hong Kong are all metal bodies and come with stickers on the bottom saying "Assembled in Hong Kong", but if the sticker has been removed then you can usually tell it's Hong Kong if the body is all metal. The last ones were made in China and the tops are plastic and usually say "Assembled in China" or "Made in China". So with this said is it safe to say the Japanese made K1000's are the ones that command the best price?
I just sold one for $100 in B+ condition, and have bought and sold 8 of them in the past 6 months so they are still in strong
demand and sell quickly. it really is a great camera!!!
I have three(3) Pentax K1000 cameras. They are all made of metal. Made in japan. Very Good high quality cameras. I have never seen or heard of a "K1000" that was made of plastic. Maybe some of the other models. But not the K1000. And they do still fetch a decent price even on ebay.The K1000 is one of the most used camera for photography instructors to teach that I know of. Mainly because, except for the light meter, it is completely manual. Great camera!
Yeah, I have an Etsy shop, and these puppies sell like hot-cakes at $100. Seeing as I can pick them up at flea markets and estate sales for around $25, it's a nice profit!
I was just on ebay (6:50est) and on the first page of the film camera standard search was a K1000 (Minty condition) for a walloping $549.99.... go figure. So I'd say they are VERY collectable!

Ok, so yesterday a friend of mine brings me this mint condition K1000. I now have four of them. But as I inspect it I realize it is not exactly like the other three. It almost seemed that the top was made out of plastic. Very hard to tell. So I did some research and I must apologize to minitw. It seems that there
were
three versions. I stand corrected.

But this new one I got Is metal. It has the serial# on top, along with a "fake button" by it. And to my surprise it is one of the earlier versions made in Japan. I will post some pics of the differences as soon as i can.
Here is what I came up with:
Early versions-made in Japan-Metal top and bottom-AOCo logo on pntaprizm-serial# on TOP-Asahi Optical Co. on back of top by the wind lever-also a fake "button plug" by the serial#
Ones made in Hong Kong-Metal top and bottom-AOCo logo on pntaprizm-serial# on BOTTOM...
Models made in China-Plastic top and bottom-NO LOGO on pentaprizm-a lot lighter in weight-not sure of serial# location.
Please correct me if this is not correct. I did see a K1000 on shopgoodwill that did not have AOCo logo on the pentaprizm.
It would be safe to say that that one was plastic and made in China. Good information for potential buyers/collectors.
So yes there are 3 versions of the K1000. The best place to get more info is to look on Pentax Forums website. Back to my original point and that is I guess the Japanese metal version of the camera has more value than the plastic version from China. Also, keep in mind it appears that when it came to the K1000 SE none of them were made in Japan and that they only had metal ones made in Hong Kong and again plastic ones made in China.
Searching eBay listings:

Searching other listings: