This forum topic is about a Personal Cameras Inventory/Showcase tool.
http://collectiblend.com/Cameras/mycameras.php
Here is the list of the camera inventory features:
- Add existing cameras from the database into your own inventory with convenient suggestions feature
- Add missing cameras into the inventory (they will be reviewed later for the possibility of adding them into the main list)
- You can even add other equipment that does not exist in the database, such as lenses, backs, etc.
- Record a serial number
- Record the date you purchased or acquired a camera
- Record its price
- Add comments about the camera (condition, lens, even links to other sites, or images, etc)
- Make some cameras in your inventory private (so that only you will be able to see them)
- Make price of the cameras private (so that only you will be able to see prices)
- Make your entire profile private (so that only you will be able to see all of your cameras)
- Make a custom header for your showcase (profile comment, including links to your web-site)
- Export your cameras with all the information into the Excel spreadsheet
- Option to show or not the images
- Upload your own camera image which will be shown in your inventory list
And here is a screenshot of the editing screen: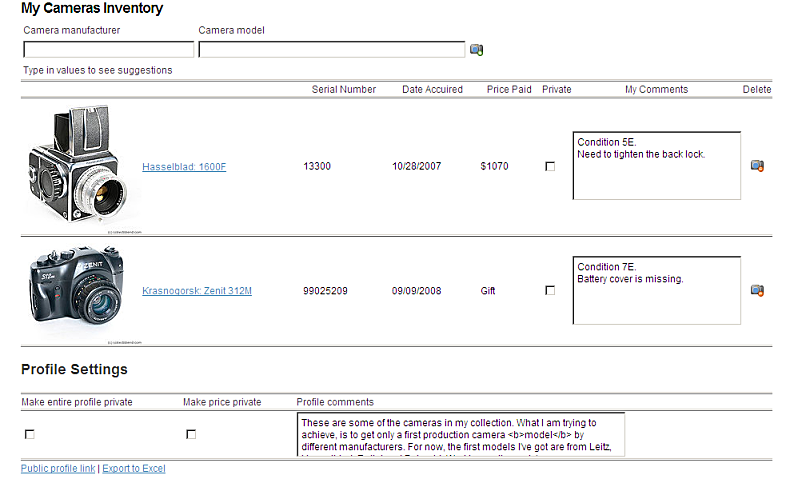 Short manual: start typing the camera manufacturer in the input field, and the dropdown list will change accordingly. The same will happen for cameras. Click on the "add camera" button (the camera icon with the plus sign) when you are done. If you can't find the necessary manufacturer or camera, just type in whatever names you think are appropriate.
To add date/price/serial number info, click on the "edit camera" button. To change the same info later, just click on "info" field. The same functions apply for comments/descriptions. Please note, that there is no "save" button, everything is saved automatically, just don't forget to press tab, enter, or click mouse somewhere else, outside of the input window.
If you have any comments or would like to see some changes or additions, let me know.